By Eric Dresselhuys, CEO
Yesterday, President Joe Biden signed the Inflation Reduction Act (IRA) into law, enacting a landmark piece of legislation that represents the most significant investment to address climate change in U.S. history, one that will deliver carbon reductions, economic growth and energy security. Importantly, the IRA recognizes the critical role of energy storage in a decarbonized grid with key provisions to support advanced battery manufacturing and clean energy project development, as well as investments that will enable climate technology manufacturers to scale and build the components of the low-carbon future in the United States.
Following last week's Senate passage of the IRA, ESS welcomed Energy Secretary Jennifer M. Granholm to our Wilsonville facility on August 9th. The Secretary was joined by Oregon Senators Ron Wyden and Jeff Merkley and Oregon Governor Kate Brown. While on site, the delegation toured the ESS factory, met some of the dedicated team of engineers and staff who design and build our iron flow battery systems, and discussed the opportunities presented by long-duration energy storage technologies to decarbonize the grid.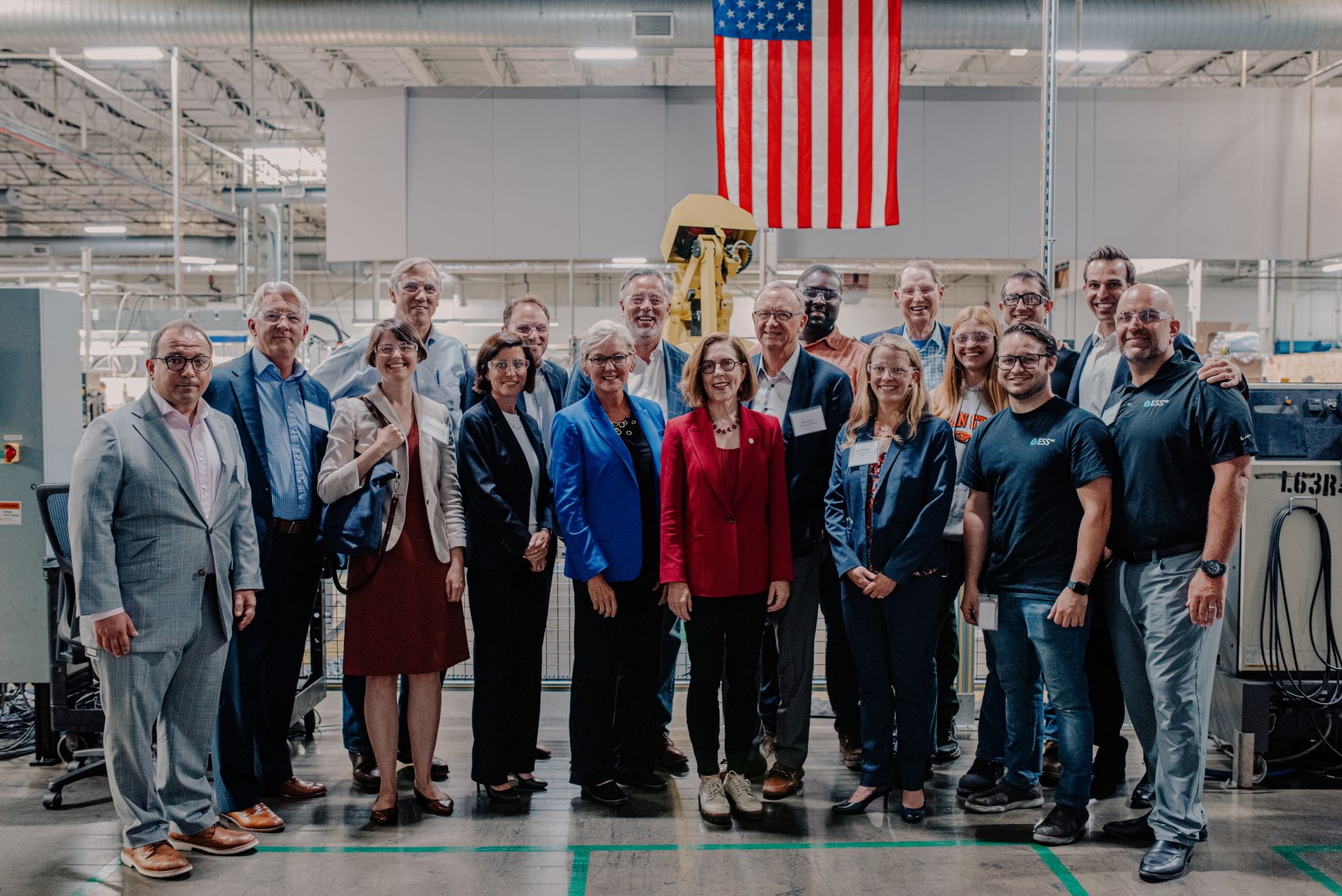 Secretary Granholm tours the ESS Inc. factory in Oregon.
Photo credit: Jen Jones | Moxy Int
It was a privilege to share ESS' work with our guests and discuss the potential for long-duration energy storage technology to both enable the deployment of renewable energy and underpin a secure, resilient energy system. We were honored to be the first manufacturing operation they visited, and given our focus, ESS is the perfect case study for all that IRA can help enable.
This market is real and it's growing. On Thursday, we announced a major partnership with Energy Storage Industries – Asia Pacific (ESI) to assemble and distribute iron-flow batteries using ESS technology in Australia, New Zealand and Oceania. This landmark partnership validates iron flow storage technology and underscores the global need for long-duration energy storage as countries worldwide work to decarbonize their energy systems. We have already begun shipping product to Australia and expect this to grow to GWh's over the coming years.
In the U.S., we expect that the IRA will accelerate the implementation of long-duration storage, particularly domestically manufactured solutions. The Investment Tax Credit provisions will help reduce the cost and improve the return for energy storage whether deployed with solar and wind or as standalone deployments for resiliency and reliability. This helps level the playing field for domestic manufacturing and will create great jobs right here at home.
After an extraordinary week, we look forward with excitement and optimism. Thanks to the continued support of our people, partners, and policymakers, we're all in on becoming the world's long-duration energy storage leader and building the clean energy future.