ESS transforms the value proposition for long-duration storage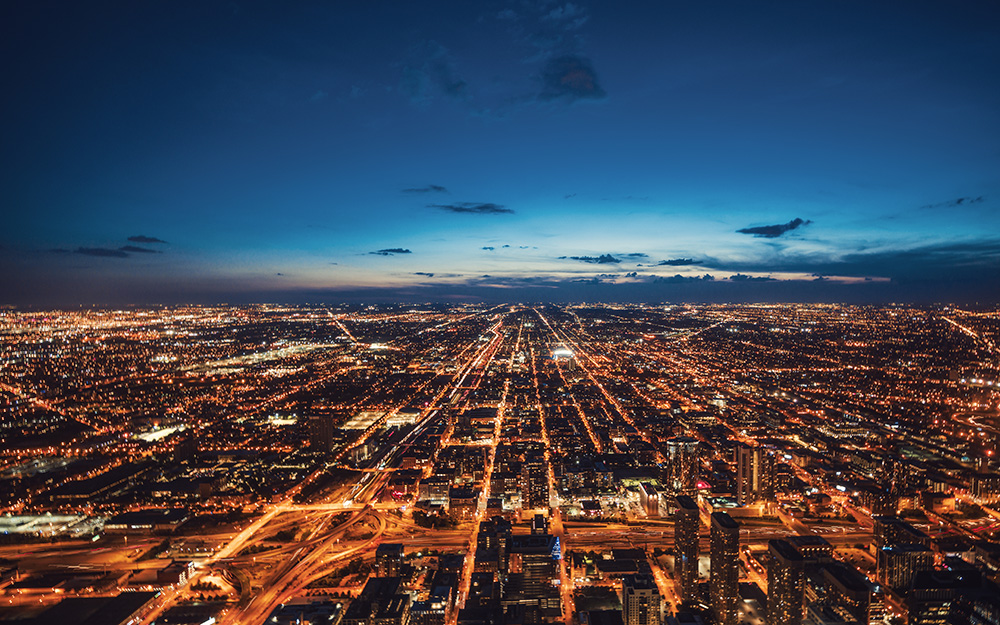 As renewable energy resources proliferate, energy storage is becoming critical to a secure, resilient and reliable grid that provides clean energy 24/7. There are many options for energy storage and customers are faced with different needs and use cases. ESS iron-flow batteries meet the broadest range of requirements and deliver value where it matters: to commercial/industrial customers, utilities, and energy consumers who depend upon reliable, clean energy.
ESS wins on performance, price, and sustainability
At ESS Inc., we have led the industry as the need for long-duration energy storage has become clear and economic models have evolved. As long-duration storage technologies proliferate, we have driven a shift from traditional calculations of cost per kWh to a holistic capital efficiency model. Today, ESS technology offers >15% improvement in capital efficiency than lithium-ion, is bankable thanks to our industry-leading guarantee from Munich RE and delivers superior flexibility to deliver not only reliable backup power, but critical grid ancillary services.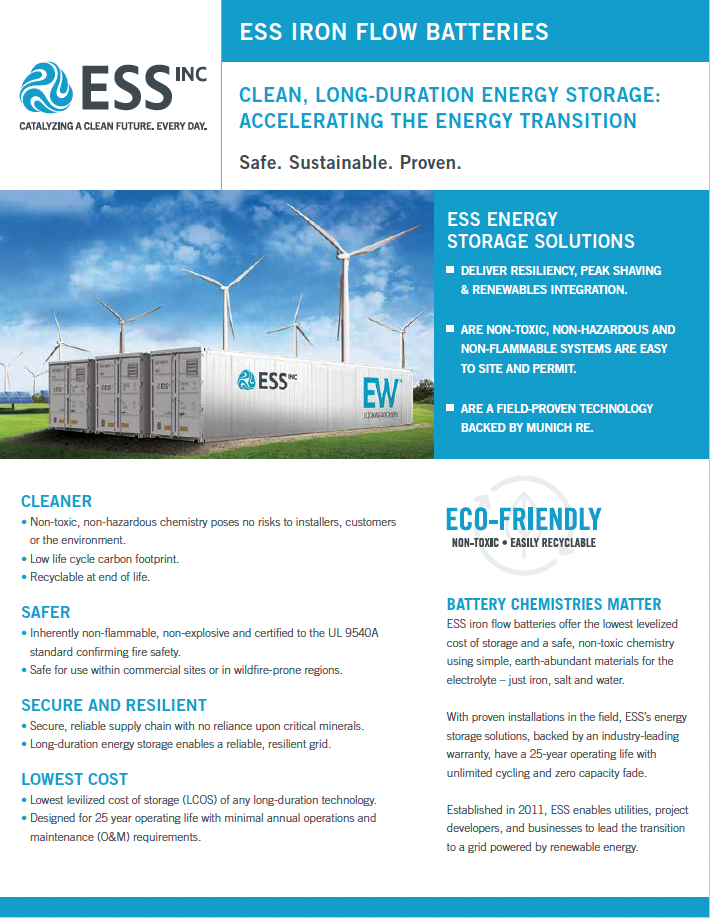 How can you utilize a battery designed for a 25-year operating life 24 hours a day?
A battery doesn't generate revenue or a return if it is sitting idle. With unlimited cycling and no capacity degradation, ESS iron flow technology maximizes revenue opportunities by not only providing long-duration energy storage, but also key grid ancillary services and serving peak demand periods. Without cycle limitations or capacity degradation, you can charge and discharge daily or even multiple times per day. Let us show you how to maximize the benefits and unique characteristics of our iron-flow battery storage solutions, the Energy Warehouse™ (EW), and the Energy Center™ (EC).
Energy storage capacity in ESS systems is easily scalable through the addition of low-cost electrolyte to an existing platform.
Li-Ion solutions must be stacked to provide longer duration storage (>4 hours). This effectively eliminates economies of scale for Li-Ion technologies.
A typical lithium-ion battery use case includes four hours of charging, four hours of discharging and sitting idle for 16 hours a day. This is due to the limited cycle life and degradation in capacity inherent to the lithium-ion technology.
ESS technology offers unlimited cycling which means you never have to let your ESS system sit idle.
ESS technology makes it possible to stack multiple use cases and value streams for more than four hours of discharge and more than one cycle per day from a single battery asset. No future capacity augmentation is required and the more you use the battery, the greater your ROI on your ESS battery asset.
ESS solutions are designed for a 25-year operating life, which aligns with typical IPP and utility wind and solar project lifespans of 25+ years. This results in a significantly lower cost of delivered energy over the life of the project compared to alternatives.
The ESS cost and performance advantage
The economic viability of many projects is enhanced when an additional cycle is added. The cost of ownership of an ESS iron flow battery system can be up to 40% less than competing technologies over a 25 year project life due to no capacity degradation, no need for HVAC, and a lower OpEX than Li-ion systems.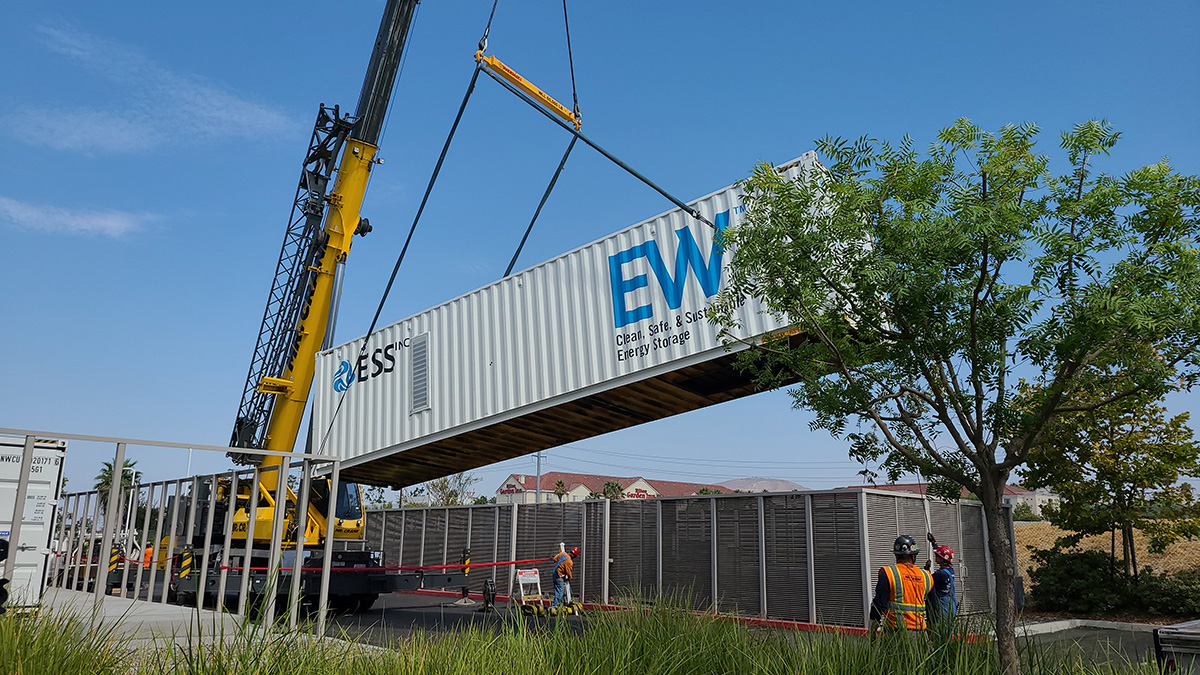 Can cycle when needed with no impact on asset life.
Operates at peak efficiency independent of ambient temperature.
No heating/cooling systems required.
Safe for deployment in urban areas or harsh and pristine environments.
ESS wins on sustainability
ESS iron flow batteries are the cleanest, most environmentally friendly storage technology on the market today. As the world works to decarbonize energy systems and confront the climate crisis, reliance upon sustainable solutions is a top priority. ESS technology is the clear, sustainable choice:
Earth abundant materials: raw ingredients are iron, salt and water.
Lowest cradle-to-gate global warming potential (GWP): one-third the embodied CO2 emissions of lithium-ion batteries.
Recyclability: contains safe and sustainable materials, and is fully recyclable at end of life.
In collaboration with UC-Irvine, a Lifecycle Analysis (LCA) was performed on the ESS Energy Warehouse™ iron-flow battery (IFB) system and compared to vanadium redox flow batteries (VRFB), zinc bromine flow batteries (ZBFB) and lithium-ion technologies. Researchers assessed the manufacturing, use and end-of-life phases of the battery lifecycle. Their findings were clear:
Iron flow batteries proved to be the cleanest technology with the lowest global warming potential (GWP).
ESS wins on bankability: The only insured battery in its class
ESS has partnered with Munich Re to launch an industry first insurance cover for ESS iron flow batteries. This industry-leading policy means our long-duration energy storage solutions are backed by a 10-year performance warranty regardless of project size or location. ESS has also collaborated with Munich Re to develop a separate Project Cover to ensure a bankable product offering. The Cover directly offers more comprehensive coverage and can be extended in order to provide long-term assurance of project performance to system owners and financiers.
Investment-grade warranty
10-yr extended warranty covering battery modules
Investment-grade project insurance
Warranty continuity insurance provides additional surety to customers and financiers
US export-import bank qualified
Pre-qualified financing available for overseas buyers
Qualified Projects deployed during the Policy Period of Jan. 1, 2023 – Dec. 31, 2023 can obtain additional warranty back-stop by Munich Re, with insurance capacity exclusively allocated at project level.